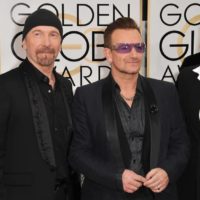 Multiple 30th anniversary editions of U2's album Achtung Baby album are set for release. The Standard and Deluxe vinyl release will be this Friday (November 19) with a 50-track digital box set available from December 3.
Achtung Baby (30th Anniversary Edition) will be available on standard black vinyl and deluxe color vinyl on November 19, with Achtung Baby (2018 Remaster) and Achtung Baby (Unter Remixes) available digitally the same day. The 50-track box set will include Uber Remixes, Unter Remixes, and B-Sides, featuring 22 tracks never before available digitally.
Achtung Baby was released on November 18, 1991, topping charts worldwide and winning the Grammy Award for Best Rock Performance. It featured the hit singles "The Fly," "Mysterious Ways," "One," "Even Better Than The Real Thing," and "Who's Gonna Ride Your Wild Horses."
To pre-order the 30th anniversary editions of Achtung Baby, head here.
Editorial credit: Featureflash Photo Agency / Shutterstock.com